For more information visit the program 
website
INFORMATION SESSIONS (THO 317):
Jan. 13, 3-5
Jan. 29, 12:30-2:30
Feb 11, 3:30-5:30
Golden Fleece, Panther Pelt, Rose Revolution – Under the Skin of Today's Georgia
Location: Tbilisi, Georgia and Istanbul, Turkey
Sponsoring Department: Slavic Languages & Literatures
Program Dates: August 26 – September 21, 2014
Estimated Program Cost: $2,800
Pre-requisites and/or Language Requirements: None
Credits: 5
Program Director: James West (Slavic); Mary Childs (Comparative History of Ideas)
UW Study Abroad Advisor: Tim Cahill: timint@uw.edu
Application Deadline: March 1, 2014
Information Session(s): Monday, Jan. 13, 3-5; Wednesday, January 29, 12:30-2:30; Tuesday, Feb. 11, 3:30-5:30.  All info sessions will be in Thomson 317; or contact Program Directors for more information.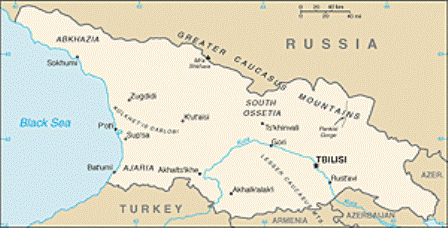 Program Description
The object of this seminar is to introduce students to the republic of Georgia, a small but fascinating and important country that is situated between two of the world's most politically and economically troubled regions – Russia and Eastern Europe to the north, and the Near East to the south.  These areas have increased in their importance for American foreign policy and long-term economic interests in the last few years.
Georgia is home to a people that has preserved its identity and language through two and a half millennia of successive empires in the Eastern Mediterranean, the Near East and Europe, and is now at a crucial stage in its efforts to become a modern nation on the eastern edge of twenty-first century Europe.  At Dmanisi, Georgia has the oldest humans remains outside Africa. At various times in its long history, Georgia had periods of prosperity and independence. Having ports on the Black Sea, it naturally traded with its neighbors, including the Greeks and Romans in ancient times. It had natural resources, such as gold panned from its rivers, and it lay on the celebrated "Silk Road" that linked China to southern Europe.  It was Christianized as early as 326, shortly after the Council of Nicea, and enjoyed a strong written culture from the early Middle Ages. Eventually, after centuries of Persian, Mongol and Ottoman Turkish domination, Georgia became a part of the Russian Empire and its Soviet successor.
With the collapse of the Soviet Union Georgia was one of the first of the Soviet republics to declare its independence, and its post-Soviet history has been tense, both internally and externally. Geo-politically, it is a strategic buffer between Russia and the Near East, and Russia finds its reasons for annexing it as compelling now as they ever were.  Georgia's own inclinations are to secure itself culturally, economically and defensively through membership in the European Union and NATO, while promoting its ancient and unique non-Indo-European language and its culture.  Recent parliamentary and presidential elections, however, indicate that elements of Georgia wish to improve and possibly renew relations with Russia. This makes Georgia a rewarding country to study: a fascinating example of a post-colonial nation with a distinct national identity struggling to establish a new orientation in the twenty-first century.
In addition, Georgia is geologically complex, scenically impressive, and biologically rich:  the Caucasus is one of the world's greatest concentrations of biodiversity, an epicenter of endemism on a biologically stressed planet.
Click here to see a Slideshow of Photographs from the program.
The seminar is open to students of any academic background.  The only requirement is curiosity and a willingness to explore a challenging region from any perspective.  The students participating in earlier iterations of this seminar had backgrounds in international studies, literature, history, and the social sciences, but also in mathematics, anthropology, astrophysics, biology and engineering, and the one thing they had in common was an adventurous intelligence.  There is no language requirement, but in preparation the students will be provided with some basic 'survival Georgian' to prevent them from being completely without bearings in the country.  Some knowledge of Russian, French or German, in that order, is an advantage that is minimally weighed in assessing applicants.
Preparation:  We will hold three or four sessions in Spring Quarter, and one during the summer, to introduce students to the region as a whole, and the culture of Georgia and what to expect there.   Students will meet peers who have gone in previous years; we will watch some Georgian films, try Georgian food, and hear some traditional music.  Students are given a packet of preparatory readings that provides a basic background to most aspects of the region.
Program Project: Students are required to write a research paper on an aspect of Georgia that interests them, and to decide on their topic as long as possible before the start of the program so that they arrive in Georgia with substantial background reading already done.
Program Activities: To give substance to the Middle Eastern dimension of Georgia, the program begins in Turkey, with a four-day exploration of Istanbul.  This is followed by three weeks in Georgia, staying in the capital, Tbilisi, and taking excursions with professional Georgian guides to major historic and cultural sites, including Dmanisi, David Gareja, Kazbegi, and Kakheti.   In Tbilisi, students:
are housed in homestays with Georgian families who have at least a minimal knowledge of English or a European language such as French;
are introduced to the Georgian Foundation for Strategic and International Studies (GFSIS) whose extensive library and research facilities, including a computer lab, they are privileged to use;
attend specially arranged lectures at intervals throughout their stay, at GFSIS and at universities and institutes in Tbilisi, both public and private, where the seminar leaders have contacts;
meet individually or in small groups with experts in the subjects of their papers;
meet periodically as a group with the seminar leaders to discuss their projects and request help as needed with materials or contacts;
are encouraged to make their own friends and contacts during their stay in Tbilisi.
Post-program: On their return to the UW, students will have until mid-term in the Fall Quarter to complete their papers, with the opportunity of consulting along the way with the seminar leaders. Arrangements are made for Honors students to receive Honors credit for their work.